Dog Vaccinations to Prevent Pet Illness | Treatment in Tucson, AZ
Dog vaccinations are essential to preventing pet illness in puppies and adults. Whether you own kittens, puppies, or older dogs, or need advice, Ina Road Animal Hospital of Tucson, AZ, is here to help! Our wellness exam will include dog vaccinations that can help improve your pet's quality of life! Don't hesitate to reach out to our veterinarian, and read below to see why dog vaccinations are key to your pet's health.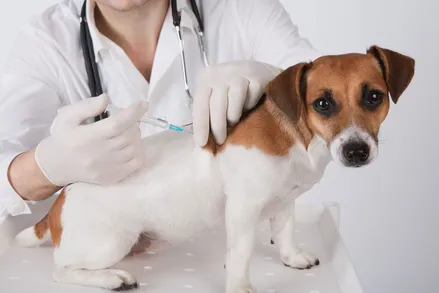 When to Vaccinate Your Dog
The most important time to vaccinate your dog is as a puppy. Puppies should receive vaccines starting at about 6-8 weeks, with boosters every 3-4 weeks until they reach 16 weeks old. This is called the "puppy series." These vaccinations are essential in protecting your pet from diseases like rabies, distemper, parvo, and more. It's key that puppies finish this process before being brought around other animals or leaving the home.
Adult dogs require booster shots as well. Although many vaccinations last up to three years, annual exams and checkups are still suggested for adult pets to ensure their continued health.
Types of Dog Vaccines
At Ina Road Animal Hospital, we offer both core and non-core vaccines. Core vaccinations help protect your pet against serious, highly contagious diseases like rabies, distemper, and parvo. Non-core vaccines are suggested based on the lifestyle of your pet - for example, an outdoor dog is more likely to need leptospirosis protection than an indoor one. Talk to our vet about the best recommendations for your furry friend!
The Benefits of Vaccinating Your Puppies and Kittens
Vaccinations are vital in protecting pets from potentially deadly illnesses. Vaccines can also reduce exposure to diseases that may be fatal or have long-term effects on their health and quality of life. Furthermore, regular pet wellness exam appointments with a veterinarian ensure that any early signs of disease are identified sooner rather than later, and that any issues are managed more quickly. Finally, regular vet visits allow us to provide preventative care and advice on nutrition, exercise, and lifestyle to help keep your pet healthy!
Keep Your Pet Healthy with Our Help
It's important to vaccinate your pup or kitten according to the schedule set out by our veterinary team. Keep in mind that puppy vaccinations should be completed before being brought around other animals or leaving the home. For more information about dog vaccinations, contact Ina Road Animal Hospital of Tucson, AZ, today at (520) 544-7700. Our staff is here to answer any questions you may have about pet health and wellness!